Taking care of what matters
Each client's case is important to them and they will receive the time and dedication required to discuss their query from initial consultation through to conclusion of the matter
Because we really care.
Lynn McCrudden and Brenda Campbell and the rest of the team will work tirelessly to ensure you achieve the right results for you and your family. We understand that contacting a solicitor can be a daunting prospect and so our aim is to make the process as painless as possible.
We want to achieve the best for each client so make it our business to develop relationships with our clients keeping them well informed and up to date with their case.
We know the difficulties of modern day life and the stresses this brings and so by prior arrangement we are willing to meet clients outside the usual 9-5 hours. We will go that extra mile for each and every one of our clients if you cannot come to us, we will come to you.
About us
Our Services
Campbell McCrudden Solicitors is a long established firm dedicated to providing a friendly and professional approach to all new and existing clients. Our modern and progressive approach gives our clients an exceptional service every time.
We offer a full range of legal services for clients, in order to meet each person's individual needs. We wouldn't exist without our clients, so the client is at the heart of everything. So come and speak with our team so we can begin resolving your issues.
Find out more
What we can offer
We care about you and your case - we genuinely want the best outcome for you and go to great lengths to achieve results for our clients.
Access to legal aid
We will quickly advise you whether your case is one in which you can apply for financial assistance from the Legal Services Agency. If you are in receipt of benefits or have a low income you may be eligible to apply for legal aid to enable you to pursue your case.
Client relationship
We pride ourselves on our ability to create lasting client relationships. We have many satisfied clients who return to us to avail of a variety of our services.
Years of experience
Our solicitors have a wealth of experience and breadth of knowledge in our specialist areas of law. We guarantee a commitment to you and to your case from beginning to end.
Trusted advice
Our client satisfaction has lead to many referrals through word of mouth and recommendation. We have gained a stellar reputation for providing solid advice, for being affable and accessible and for getting excellent results.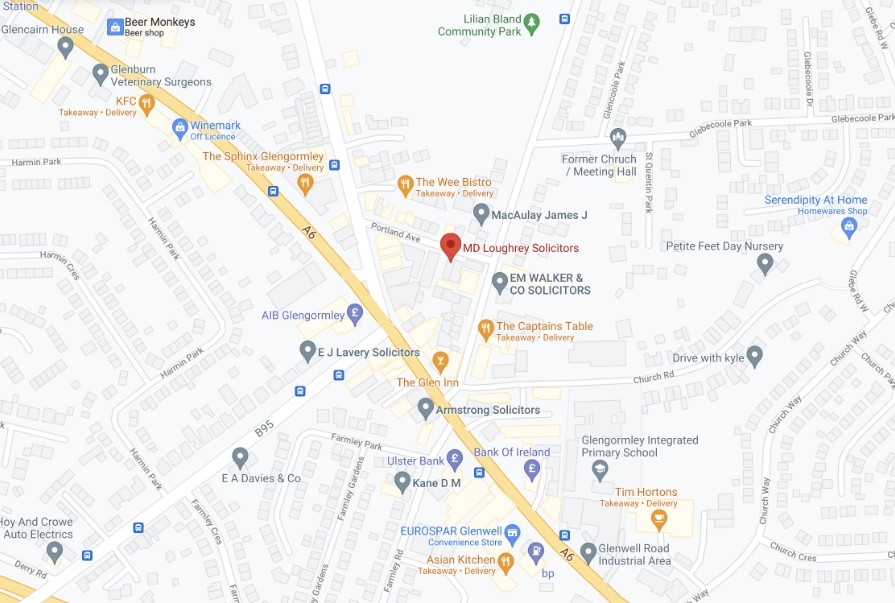 We're here to help
Whatever your legal problem or requirement, we'd love to hear from you. Please use this form to get in touch and we'll come back to you as soon as possible.